ShopKeep Label Printing
Print barcode labels for inventory items from BackOffice on any Mac or Windows computer. Install the DYMO drivers, customize optional label settings, and start printing labels individually or in bulk to a DYMO LabelWriter 450.
Watch our DYMO Printer Setup video: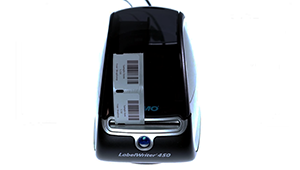 Table of Contents
ShopKeep Label Printing vs. DYMO Label
There are two ways to print labels for inventory items: from ShopKeep's BackOffice or via DYMO's own software. Learn about each method first to decide which solution to use.
Purchase labels from the ShopKeep Store here.
ShopKeep Label Printing
ShopKeep's BackOffice solution for printing labels. Use this if you:
Prefer to print directly from BackOffice.
Need to print Butterfly, 1″ x 1″, 1″ x 1.5″, or 1.25″ x 2.25″ labels.
DYMO Label Software
DYMO's label printing software. Use this if you:
Are comfortable working with spreadsheets.
Prefer to print using DYMO software.
Need to print 1″ x 1.5″ or 1.25″ x 2.25″ labels.
Visit our
DYMO Label
article to learn how to print labels using DYMO Label.
DYMO Label is third-party software for printing labels in bulk from a desktop or laptop computer running Windows or macOS. For help with DYMO Label, contact DYMO for support.
DYMO Installation
Download and install the DYMO drivers to prepare your computer to start printing labels.
Connect the DYMO printer to a computer and load the labels.

The DYMO printer cannot be connected to an iPad. Visit the DYMO LabelWriter Setup article for help completing this initial setup.

Click one of the options below to download the DYMO Label software for a Mac or Windows computer.

Do not install the CD included with the printer, it may not contain the most up-to-date drivers.

Open the file (.dmg for Mac or .exe for Win) and run it.

The images below are for Mac. Windows installation will look different.

Click to Enlarge

Click to Enlarge

Follow the prompts to proceed with installation.
Click 'Close' to complete setup.

Label Customization Settings

Customize how labels look with the following optional settings. Enable prices and add currency symbols, enable and select what prints in the description field, enable and choose a source for barcodes, enable the store name, select the type of label being used, and preview labels before printing.

In BackOffice, click 'Settings' and select 'Label Printing'.

Change settings as desired.

The label preview will update in real time to reflect the settings currently in use.

Click to Enlarge

Print Barcode | Enable to print a barcode on the label. Select either SKU or UPC as the barcode source. If toggled on with 'UPC' selected as the barcode source, you will have the option to use the SKU when printing labels for items without UPC codes.
Print Item Description | Enable to print a description on the label's first line. Select either Description (item name), Department, or Category as the description source. This is taken from the information currently entered for the item on the Item List.
Print Price | Enable to print prices on labels. Prices are taken from the information currently entered for the item on the Item List.
Print Currency Symbol | Toggle to add or remove the currency symbol next to the price. If enabled, enter a currency symbol ($, €, etc., limit of 4 characters) in the field that will appear below this setting.
Print Store Name | Enable to print the store's name on the label. The name used is the 'Store Name' entered in receipt settings. If no store name is set, the location nickname is used instead.
Label Printing Preview | Select a label size to use as the preview image displayed on this page and as the default label size that will be automatically selected when printing labels. Choose Butterfly, Square (1" x 1"), Rectangle (1.5" x 1"), or Large Rectangle (2.25" x 1.25").

Click to view a completed label with the above customizations enabled

Click 'Save' to save changes.

Click to Enlarge

Print Individual Labels

Print labels one item at a time from the BackOffice Item List to a connected DYMO LabelWriter printer. Select an inventory item, set the label size, and enter a quantity to print labels for individual items from BackOffice.

Purchase additional labels from the ShopKeep Store.

Print Bulk Labels

Print labels for multiple items simultaneously from the BackOffice Item List to a connected DYMO LabelWriter printer. Enter bulk label printing mode on the Item List, set the label size, and enter a quantity to print labels in bulk from BackOffice.

Need labels? Purchase some from the ShopKeep Store here.

In BackOffice, click 'Items' and select 'Item List'.

(Optional) Search, filter, and sort the Item List to display only the items that need labels printed.

Searching, filtering, and sorting must be done before entering label printing mode (step 3). For detailed help using these features of the Item List, visit our Organize Inventory article.

To search the Item List, enter the name, SKU, UPC, or supplier item ID of an item under the relevant column header.

Don't see the SKU, UPC, or supplier item ID columns? Enable them by clicking 'Filter', selecting 'Show/Hide Columns', and checking the relevant boxes.

Click to Enlarge

To filter the Item List, click 'Filter', select a column to apply a filter to, then configure the filter.

Available filters include 'Item', 'Cost', 'Price', 'Margin', 'Markup', 'Quantity', 'Supplier', 'Department', 'Category', 'Created At', Discountable', 'Taxable', 'Supplier Item ID', 'SKU', 'UPC', 'Reorder Trigger', 'Recommended Order', 'Price Type', 'Unit', 'Register Status', and 'Track Quantity on Hand'.

To sort the Item List, click any column with arrows.

Click to Enlarge

Click 'Bulk action', and select 'Label printing'.

Click to Enlarge

(Optional) If printing an item with variants, click the arrow next to that item to view its active variants.

Click to Enlarge

Enter a label quantity and select a label size for an item and/or variant being printed.

Available label sizes include 'Square', 'Rectangle', 'Large Rectangle', and 'Butterfly'. To preview what a specific label will look like, hover over the preview icon.

Click to Enlarge

(Optional) To change the barcode source for an item or variant, click a SKU or UPC, and select 'SKU', 'UPC', or 'No barcode' from the drop-down.

The default barcode source is set in Label Printing Settings. 'No barcode' is only available for items without a UPC code.

Click to Enlarge

Click the printer icon to print a specific item to a connected DYMO label printer.

Click to Enlarge

(Optional) Repeat steps 4 - 7 for each additional item or variant being printed.
Click 'Items List' to exit bulk label printing mode.

Click to Enlarge

---