Epson TM-m10 / TM-m30
Bluetooth Printer Setup
The Epson TM-m10 and TM-m30 Bluetooth printers connect wirelessly using Bluetooth technology to print receipts and kitchen tickets. Follow this guide to learn how to set up the printer and connect it to ShopKeep.
Setting up a Star Micronics 650II Bluetooth receipt printer? Visit this article instead.
Watch our setup video below: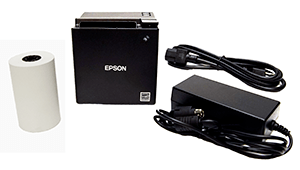 Table of Contents
In the Box
The Epson TM-m10 and TM-m30 Bluetooth Printers ship with the printer, a small paper roll, wall adapter, and adapter cable.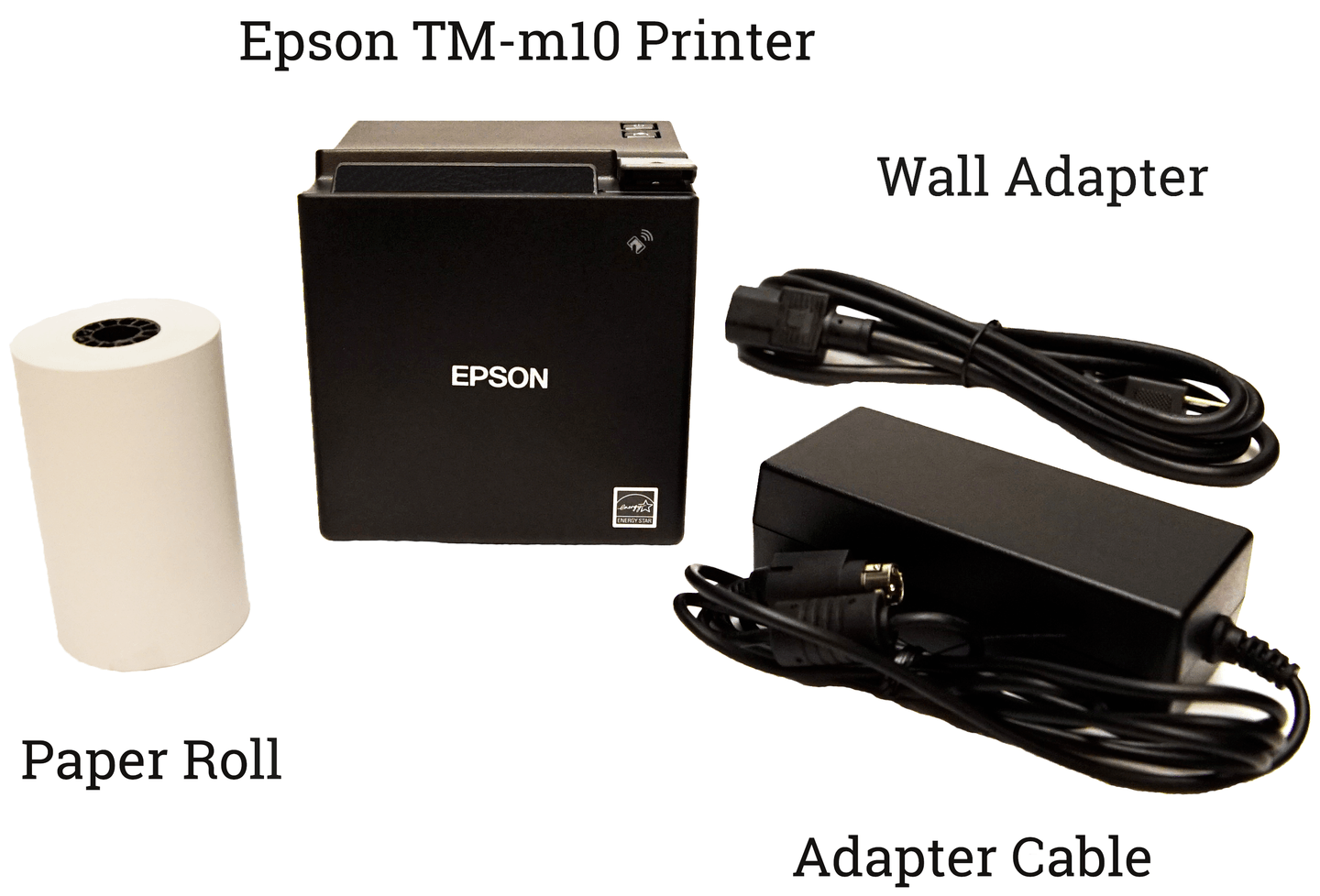 Printer Hardware Setup
Set up the included hardware and power on the printer before connecting it to a register.
Locate the bottom panel with four rubber feet.

Remove the bottom panel by pulling it from the printer.

Remove the side panel by pulling it from the printer.

Plug the power adapter cable into the adapter port.

(Optional) Connect a cash drawer.

a

Plug the smaller end of the cash drawer cable into the cash drawer port on the printer.

b

Plug the larger end of the cable into the cash drawer.

Reattach the bottom panel by snapping it into place.

Both panels are interchangeable. Attach them in whatever orientation works best for your business.

Reattach the side panel by snapping it into place.

Connect the adapter cable to the wall adapter, then plug the wall adapter into an outlet.

Press the power button to turn the printer on.

Lift the gray latch to open the lid.

Load the paper so it feeds up from the bottom of the roll.

Close the lid on the paper.
Hardware setup is complete when the printer shows a solid blue status light.

Continue below to pair the printer with the iPad.
Pair with the iPad
Once the printer is set up but before connecting it to ShopKeep, pair the printer with your iPad.
Open the 'Settings' app on the iPad.

Tap 'Bluetooth' and turn it on.

Click to Enlarge

Select the printer 'TM-m10…' or 'TM-m30...' to connect.

Click to Enlarge

Follow the steps below to connect the printer to ShopKeep.
Connect to ShopKeep
With the printer powered on and paired with the iPad, connect it to ShopKeep to begin using it.
In ShopKeep, tap 'Integrated Hardware' from the Main Menu.

Click to Enlarge

Tap 'Printers'.

Click to Enlarge

Toggle the switch for 'Epson TM-m10' or 'TM-m30' on from the list of receipt and/or ticket printers.

If the printer is not listed, visit our troubleshooting guide for help resolving the issue.

Click to Enlarge

If setting up as a ticket printer, enter a name for the printer and tap 'Add'.

After adding the printer, create printer groups in BackOffice to enable items for ticket printing.

Click to Enlarge

(Optional) Tap the printer icon to test the connection between ShopKeep and the printer.

If successful, this prints a slip of paper with the printer's name, MAC address, and the date and time.
---