Discounts
Create specific discounts, such as a senior discount or an employee discount, to track how often they are used at the register and the total amounts they deduct. Learn how to manage discounts, apply them to sales, and monitor their usage with reporting.
Watch our Named Discounts video below: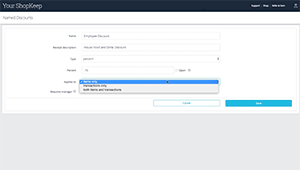 Table of Contents
Set Up New Discounts
By default, two discounts are automatically set up when a Lightspeed Retail account is created (Open Amount and Open Percentage). Add new discounts in BackOffice to track other types of commonly used discounts.
Discounts must be added individually to BackOffice and applied manually at the register. If you want to apply a discount to a large number of items or create a sale for a particular set of items, calculate item prices to include the discount and update the prices using our Bulk Management feature.
Manage Discounts
Edit existing discounts to change their name, type, amount, or other attributes. If the business no longer offers a particular discount, delete it to remove it from the register.
Discount Settings
Configure discount settings to control how discounts applied to the overall sale affect the sale's total.
In BackOffice, click 'Settings', then 'Discounts'.

Click to Enlarge

Choose how to apply transaction-level discounts and click 'OK'.

subtotal means discounts apply to the entire sale subtotal, even if some items are non-discountable.
total of only discountable items means discounts apply to the subtotal of only the discountable items.

Click to Enlarge

In the Retail POS (S-Series) app, tap 'Get Updates from BackOffice', then 'Get Updates' to sync changes to the register.

Receiving an error while getting updates? Visit our troubleshooting guide for help.
Apply Discounts to Sales
At the register, apply a discount to deduct an amount or percentage from a sale. Depending on the type of discount, the cashier may need to manually enter its amount or percent.
On the New Sale screen, tap the discount button to add a discount.

For item-level discounts, tap the button next to a line item.

Click to Enlarge

For transaction-level discounts, tap 'Discount'.

Click to Enlarge

Each sale can have a maximum of 1 discount per line item and 1 transaction-level discount. You cannot stack two discounts of the same type.

Select a discount to apply to the sale.

Click to Enlarge

If the discount is open, enter its amount or percent and tap 'Done'.

Click to Enlarge

For discounts requiring manager approval, have a manager enter their register code and tap 'Verify'.

Click to Enlarge

(Optional) To remove a discount from the sale, tap the discount button, then the 'X'.

Click to Enlarge

Finish the rest of the sale as usual.

The discount's Receipt Description appears on the customer's receipt.

Discount Reporting

Use the Sales by Discount report to learn how often and to what extent discounts are given at the register.

This report is only available for Lightspeed Retail merchants on select pricing packages.

In BackOffice, click 'Reports', then 'Discounts'.

Click to Enlarge

The Sales by Discount report shows how often each discount is used and gives total discount amounts.
To learn how to read, filter, export, and print this report, visit our full Sales by Discount article.

Click to Enlarge

Want another perspective on discount usage? Learn about other reports that have discount information:

---