ShopKeep & Apple Pay
Set up and accept Apple Pay payments with a compatible credit card processor and iPP series, Link/2500, or Clover All-In-One credit card reader.
Watch our ShopKeep and Apple Pay video: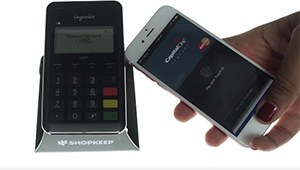 Table of Contents
What is Apple Pay?
Apple Pay is a type of contactless payment that allows customers to use compatible Apple devices to pay for purchases at the register. Learn more about Apple Pay directly from Apple.
If you have questions about setting up or using Apple Pay with ShopKeep, visit our FAQ.
Apple Pay Setup
Apple Pay transactions are run through your credit card processor just like credit card sales. If your processor supports Apple Pay, so can your business.
Follow the steps here to set up credit card processing.

Apple Pay works with ShopKeep Payments, most third-party credit card processors (only when EMV payments are enabled), and online and mobile payments for invoices and Pay by Link sales.

Set up the Link/2500, QuickBooks All-in-One, Clover Go, Clover Mini, or Clover Flex credit card reader for use at the register.

Visit the ShopKeep Store to purchase a credit card reader.
The Clover Go, Clover Mini, and Clover Flex are only available to eligible merchants processing credit cards with ShopKeep Payments.
Using Apple Pay at the Register
Follow the steps below to learn the basics of accepting Apple Pay payments at the register.
To learn how customers pay for invoices and Pay by Link sales using Apple Pay, visit the Invoices or Pay by Link articles.
In ShopKeep, the cashier rings up a sale and taps 'Credit'.

Click to Enlarge

The customer prepares their Apple Pay device for payment.

For help with this step, visit Apple Support.

The customer holds their device within 1″ of the card reader when prompted in ShopKeep.

Click to Enlarge

The customer waits for a vibration, checkmark, and beep on their device to confirm the payment.
The cashier finishes the sale like a normal credit transaction.
---